Newsletter n°3 💙
Passion Hobby, Progrès et Questions.
Comme dirait un prestigieux artiste contemporain : salut la team.
Troisième édition et toujours des formats bizarres. Entre le commentaire de texte et le post de blog. En Y sur l'autoroute des conventions de la newsletter. Aujourd'hui :
Une reflexion autour du Hobby, de son importance et de sa complexité moderne.

Un mec un peu cynique qui explique que le progrès peut cannibaliser le progrès à cause de l'évolution des mots.

Un questionnement sur la Question.
En bonus : Une photo de schéma dessiné rien que pour vous et une référence cachée à Sefyu. Bonne lecture !
---

🥌 Passion : Passions 🥌

Cela fait quelques temps que je me pose des questions quant à la notion de 'hobby'. Comment ils se forment, se perdent, se retrouvent et le rapport que chacun peut avoir avec. Et plus particulièrement, son évolution à l'ère du partage, du partage public de soi et du contexte de performance dans lequel ce partage prend place.
Quelques lectures l'année dernière m'ont permis de mieux identifier ce que je trouve intriguant dans cette évolution au point de me faire un avis et mettre le sujet de côté.
C'était avant de recevoir la newsletter d'Anne Helen Petersen du 2 février, sobrement intitulée "what a hobby feels like". Vous parler de ce post est l'occasion idéale pour distiller quelques points et lectures associées. 
L'histoire d'Anne est intéressante car elle se situe dans un entre-deux : d'un côté, l'écrivaine qui flirt avec le burn out, et de l'autre, la passionnée constatant son privilège de savoir ce qu'elle aime faire quand elle ne bosse pas. Un contexte lui permettant d'observer différentes dynamiques quant à notre sujet du jour. 
J'aime bien la manière assez légère et douce avec laquelle elle parle de hobby en se remémorant son amour du ski, à la fin de son post : 
I grew up skiing at a small but mighty mountain in Central Idaho, a place where brother, my friends, and their brothers spent our childhoods figuring out the limits of our bodies. We were almost entirely unsupervised; we were fast and often reckless; we spent seemingly endless hours trying to perfect one jump. We got better very gradually, over the course of more than a decade. We didn't ski because it was cool, or because our parents forced us […] but just because it was what we did, every weekend we could. It didn't feel like a choice, it just felt like a natural gravity.

To me, that's what I think a real hobby feels like. Not something you feel like you're choosing, or scheduling — not a hassle, or something you resent or feel bad about when you don't do it.
Une description pleine d'innocence qui respire l'enfance désintéressée.
Pourtant, plus haut dans le dans le même post, c'est un tout autre aperçu que l'auteure donne de ce qui peut s'apparenter à un hobby, devenant une pratique bien plus réfléchie, mécanisée et complexe :
Races like the Ragnar are often conceived of as "stuff bourgeois like": paying for the privilege to exhaust yourself. And I don't disagree.

But I think the motivating factor [...] has even more to do with a certain type of work/lifestyle. People within this realm work so much that they have to formalize and extremize leisure in order to rationalize seeking it. It has to involve consumption in some way (buy this running Camelbak!), and planning / long-term commitment (you sign up months before), societal buy-in (knowledge that this is a cool thing that you are doing), and secondary optimization (exercise). Then you can give yourself permission to spend 48 hours doing something exclusively for yourself and your suffering-and-survival as enjoyment.
Comment en arrive t on à des interprétations et des façons si différentes de vivre une pratique que l'on apprécie ? Si le travail est un des éléments qui sépare le plus l'adulte de l'enfant, est-il le seul responsable de ce grand écart ? Les hobbies sont-ils un rêve d'enfant ? Aurait-on mieux fait de rester ados (c'est la solution pour laquelle j'ai opté perso) ? Suis-je le gardien de mon frère ?
La question du travail évoquée plus haut est un angle intéressant. A ce sujet, Anne aborde ce qui lui donne envie de courir ; se détacher du travail qui la poursuit :
My personal reasoning for running has less to do with the need to ruthlessly declare time for myself, and more to do with the desire to ruthlessly segment time away from work. I like training schedules because I like schedules and routine, but I find I am unexpectedly nourished by the vast nothingness of a long run. You're forced to hang out with your own mind — even if you're doing it with someone else, you're still hanging out with your own mind a whole lot. Some people call it meditative, and I guess that's what I mean when I say that it forces present-ness: you can think about work things, or relationship things, or plan your outfit for the next day, but you're still right there in your body, doing the thing for the foreseeable future. At the end of a long run, my partner and I always joke "it feels like I've never not been running." You want it to be done, but it also just feels like your current reality: there's nothing you can do about it; it just is. And there's something profoundly liberating in that.
Ce témoignage permet de se poser la question suivante : si un hobby peut servir à chasser le travail, dans quelle mesure le travail peut-il chasser le hobby ?

La notion de travail comme simple contrat comprenant des tâches, des responsabilités et une rémunération perd du terrain. Les employeurs nous parlent d'engagement, de famille, voire de patrie dans le cas de la startup nation. Le travail est devenu un lifestyle, avec des obligations et des idéologies.
Comment cela peut affecter notre relation aux hobbies ? L'un pourrait dire que le travail nous prend de plus en plus de temps, mais cela reste à démontrer industrie par industrie (je crois qu'on travaille moins que nos parents, globalement). Il y a également un mythe autour du fait d'être busy (status signaling tout ça) qui nous amène à nous persuader d'être sous l'eau. Faisant ainsi du Temps une question complexe.

C'est plutôt mentalement, plus que dans nos agenda, que le travail prend de plus en plus de place. A travers la machine infernale qu'est la productivité notamment, dont les principes en viennent à mettre sous pression l'insouciance du hobby et du loisir. Comme écrit ici dans un article du Guardian, cela peut se manifester de la façon suivante :  
One of the sneakier pitfalls of an efficiency-based attitude to time is that we start to feel pressured to use our leisure time "productively", too – an attitude which implies that enjoying leisure for its own sake, which you might have assumed was the whole point of leisure, is somehow not quite enough. And so we find ourselves, for example, travelling to unfamiliar places not for the sheer experience of travel, but in order to add to our mental storehouse of experiences, or to our Instagram feeds. We go walking or running to improve our health, not for the pleasure of movement; we approach the tasks of parenthood with a fixation on the successful future adults we hope to create.
La poursuite d'une supposée excellence et la glorification de la productivité nous a matrixé au point d'attendre beaucoup trop d'un plaisir simple. Le quête du succès, aussi petit soit-il, devient la quête du bonheur, et la performance apparente devient le KPI de nos activités. 
Une vision contre laquelle se fracasse notre frivole définition du hobby citée plus haut. Et une vision qui se retourne fatalement contre nous quand nos aspirations dépassent nos propres intérêts. C'est ce dont parle ce petit article du NYT dans lequel l'auteur explique pourquoi nous développons une peur du hobby : 
There's a deeper reason, I've come to think, that so many people don't have hobbies: We're afraid of being bad at them. Or rather, we are intimidated by the expectation — itself a hallmark of our intensely public, performative age — that we must actually be skilled at what we do in our free time. Our "hobbies," if that's even the word for them anymore, have become too serious, too demanding, too much an occasion to become anxious about whether you are really the person you claim to be.

If you're a jogger, it is no longer enough to cruise around the block; you're training for the next marathon. If you're a painter, you are no longer passing a pleasant afternoon, just you, your watercolors and your water lilies; you are trying to land a gallery show or at least garner a respectable social media following. When your identity is linked to your hobby — you're a yogi, a surfer, a rock climber — you'd better be good at it, or else who are you?

Lost here is the gentle pursuit of a modest competence, the doing of something just because you enjoy it, not because you are good at it. Hobbies, let me remind you, are supposed to be something different from work. But alien values like "the pursuit of excellence" have crept into and corrupted what was once the realm of leisure, leaving little room for the true amateur.
Cette paralysie face à l'amateurisme et la pression productiviste que l'on se met par peur implicite de ne pas être à la hauteur d'attentes numérico-sociales (butez moi lol) a de quoi en décourager plus d'un.e. 
J'en place une pour les acteurs exploitants de stress qui se régalent de cette forme de malaise présent au sein d'une anxiété plus globale. A savoir les vendeurs de wellness, les gourous de la pleine conscience et les professionnels du développement personnel. Ah et la Silicon Valley bien évidemment, qui compte bien prendre sa part du gâteau avec la "Passion Economy".  Mais ça, c'est une autre histoire.
Anne Helen admet qu'elle a eu de la chance. La chance de savoir ce qu'elle aimait et aime faire sans trop lutter contre ces dynamiques externes. La chance d'avoir su / pu les trouver durant son enfance. Contrairement à son partenaire : 
My partner spent his junior high and high school years at a competitive prep school on the Main Line in Philly, and has only recently come to realize that he had no hobbies, and no sense of what he actually liked to do, just what he needed to do in order to shape himself for school, then college, then work.
Every hobby, for him, is an adult hobby — and thus all the more difficult to discover and adopt.
Car le problème est là : les hobbies sont indispensables pour ne pas partir en vrille à un moment ou l'autre. On parlait du burn out, mais la quête de sens et les reconversions un peu extrêmes, pour compenser des années passées trop loin de certains besoins étouffés, pourraient aussi être en partie attribués à un carence en hobbies et donc d'un équilibre. Mais aux barrières que l'on a pu identifier plus haut viennent s'en ajouter d'autres. Trouver celui qui nous convient peut s'avérer être une épreuve complexe : 
Earlier this week, Katie Heaney wrote a piece in The Cut that speaks to what I think a lot of people feel when they think about their hobbies: she keeps trying to start one, but can't make it stick. The truth is, it's really really hard to start a hobby as an adult — it feels unnatural, or forced, or performative. We try to force ourselves into hobbies by buying things but a Kitchen-Aid will not make you like cooking.

It's also hard when the messages about what you should be doing with your leisure time are so incredibly contradictory: you should devote yourself to self-care, but also spend more time on your children and partner; you should liberate yourself from the need to monetize your hobby but also have enough money to do the hobby in the first place.This "Smarter Living" piece in the NYT on what to do with a day off is emblematic of just how fucked up our leisure messaging has become: you should "embrace laziness," "evaluate your career," "have a family meal," "fix your finances," "do that one thing you've been putting off," AND/OR "do nothing."
Ma participation s'arrête ici. Je n'ai pas de remède. Et encore moins la prétention de pouvoir formuler des principes universels. Mon expérience me fait questionner plus que jamais le rôle d'internet (en tant qu'outil de communication). Je constate que j'ai un rapport assez différent entre les hobbies que j'ai commencé à pratiquer bien avant les réseaux sociaux modernes et ceux débutés après. Si j'entretiens une certaine innocence avec les premiers, j'ai plutôt tendance à développer une forme d'anxiété pour les plus récents. Inspiration, aspiration et illusion sont à 3 clics les uns des autres. Tout va très vite. C'est facile de se perdre, de faire les choses pour les mauvaises raisons ou d'en attendre trop, trop vite. Un producteur musical me disait récemment qu'il constatait le développement d'une "maladie du faire pour réussir au lieu de faire pour le plaisir". Qui résume bien une partie du constat.
En attendant de soigner ma relation avec mes hobbies les plus récents, il me reste les anciens qui me permettent tout de même de partager ce sentiment d'Anne Helen : 
It's weird to think of yourself as privileged to know what you like. It's certainly privileged to be able to know it and have the means — the time, the money, the wherewithal, the health — to pursue it. But one of the saddest predicaments of the current millennial moment is feeling desperate for something that isn't work, but having no clue how do figure out what else there is.
Je finis donc avec un petit lien qui mentionne quelques possibles solutions et pas grand chose d'autre. 
Et n'oublions pas, "a hobby is not an obligation, but a state you're always returning to. It doesn't have to be expensive, it doesn't have to be organized, it doesn't have to depend on other people. It just has to be yours."
---

📈 Le paradoxe du progrès 📉
TW : viol / violence / racisme. Pas d'images, que des mots. Et des exemples safe.
Dans ce post intitulé "How progress blinds the progress", assez froid mais raisonné, je suis tombé sur la notion de "Concept Creep". L'idée est que les définitions de certains préjudices s'élargissent avec le temps.
Concept creep : referred to the tendency for the definitions of harms like abuse and prejudice to be gradually expanded over time.
Ainsi, l'auteur constate qu'en quelques dizaines d'années les définitions de ce que comprenait la misogynie, le racisme, ou le harcèlement sexuel ont largement (littéralement) évolué.
Si personne ne doute (j'espère) du progrès et du bien fait de l'élargissement de cette définition afin d'inclure des phénomènes que nos cerveaux et nos volontés ont mis du temps à avouer, l'auteur observe comment ces évolutions impactent nos discours sociétaux et les pièges dans lesquels ce principe de concept creep peut nous faire tomber.
En gros voici le piège : Une notion de préjudice évolue. De nouveaux sous-types de préjudices sont comptabilisés dans les statistiques d'un préjudice initial. Ces nouvelles statistiques (d'un préjudice initial étoffé) sont ensuite relayées et comparées, par les médias, à des statistiques antérieures se basant sur la définition initiale du préjudice. Face à l'explosion de la dite statistique, s'en suit la formation de discours assez dingues comme " les Etats-Unis font partie des 10 pays les plus dangereux du monde pour la femme" ou "l'immigration a fait de la Suède la capitale du viol en occident".
En pratique, ça donne ça :
Firstly, the legal definition of rape was duly expanded in 2012 to include such offences as penetration by objects other than penises, and penetration of those too intoxicated to give consent, which led to counties across the US reporting a surge in rape cases by as much as 2,000%. Increasing the number of cases classified as rape would not only have affected statistics directly, but would also have resulted in a greater prevalence of news stories mentioning rape in the US.

Unfortunately, the media's inability (or unwillingness) to contextualise surges in police statistics in light of creeping concepts means that even reasonable expansions in definitions can lead to the propagation of dangerous false narratives.
Pour ceux qui ont la flemme de lire, voici un schéma pour résumer la mécanique :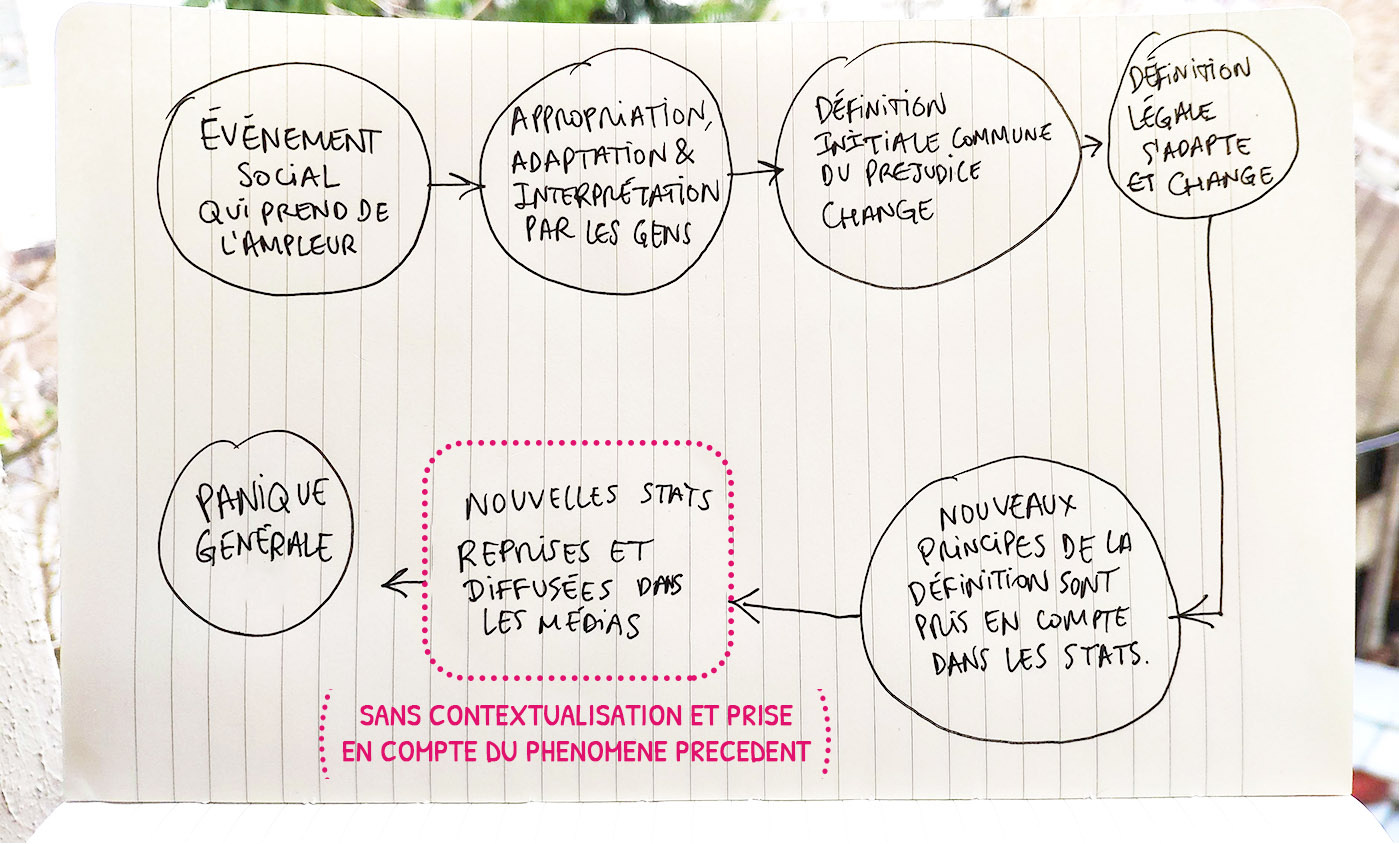 Le pire, c'est évidement la récupération politique et idéologique qui en découle. A travers plusieurs exemples de phénomènes récents, l'auteur explique comment les idéologies de droite et de gauche produisent et utilisent des discours concept creepés.
Conclusion : pour que l'évolution d'une notion garantisse un progrès complètement sain, la responsabilité des médias à contextualiser ces informations est ici aussi importante que celle des citoyens à redéfinir les préjudices et crimes de leurs sociétés.
PS : voici d'autres exemples qui ne traitent pas d'agression sexuelle ou de racisme.
PS2 : voici le thread dans lequel je suis tombé sur ça.
---

❓Question Réponse ❓

Faisons light pour le dernier sujet.
What are questions? expose un point de vue assez cool sur ce qu'est une question et le rapport à l'apprentissage. Celui du regretté Clayton Christensen. Connu pour ses idées sur la disruption ou le principe de Jobs To Be Done, mais aussi pour sa clarté d'esprit et sa capacité à formuler ses idées.
You've probably heard it said that someone can't be taught until they're ready to learn. Why though? Why can't someone be taught until they're ready to learn?
Clay explained it in a way that I've never heard before. Paraphrased slightly, he said:

"Questions are places in your mind where answers fit. If you haven't asked the question, the answer has nowhere to go. It hits your mind and bounces right off. You have to ask the question — you have to want to know — in order to open up the space for the answer to fit."
Je n'ai pas trop d'idée à ce que à quoi ça peut vous servir, techniquement, mais ça peut être un prisme intéressant pour comprendre son rapport à l'autre. En user research ou dans la conception d'un message notamment.
Ca se trouve la question c'est la question 🤯.
---
Newsletterement votre,
Hellofdp.